Making decisions on which type of products to purchase and install when upgrading your home security products, is an important process to go through. You must be methodical, and think carefully about not only your budget, but understand your specific property, the vulnerable points of potential entry, and how you will keep an eye on your home security at all times? One of the biggest decisions to make if you are installing a home security alarm system is to choose between a traditional wired alarm system or whether to choose a more modern, wireless alarm system.
There are, of course, a number of different reasons why you would want to choose either product, with benefits and drawbacks to both, specific to your own situation.
No matter which type of alarm system you choose there are now plenty of choices of brands and models on the market place to decide between. Make sure you choose to purchase from a supplier that has a track record with home security products and can offer you expert advice and guidance on your specific property, weak points and the type of home security system that will best suit your budget.
As for installation, there is a clear difference between the two types of home alarm system. The traditional wired home alarm systems are often cumbersome in size and shape, and difficult to install on a DIY level. You'll require assistance from a professional and once installed, it is costly and quite difficult to move the home alarm system and all component parts to a different location. A wireless alarm system is much easier to install, lowering the related costs significantly. Installation and longevity should always be a consideration when purchasing any home security product, and it could be that a bulkier main alarm system is more suitable to your location and environment, than a smaller, easier to install wireless system.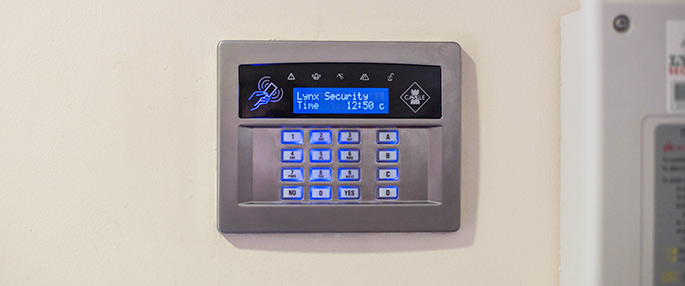 The running costs differ between the two systems also, with batteries required for wireless alarm systems. These should be changed every couple of years. When replacing broken parts on a wireless system it will cost more than the maintenance related to a wired system (which is powered through a local power source).
The modern wireless alarm system has advanced to a point where reliability and consistency of performance is on a par with the traditional wired systems. There is very little to separate between the two, so when it comes to making a decision you have peace of mind that performance should not be an issue either way. It quite often boils down to aesthetics and how a home alarm system will fit in to the design and décor of a house.
For many people, a wired alarm system is cumbersome, an eyesore when too big and you'll have to put more work into hiding the wires. With no extra wiring to worry about, a wireless alarm system is much smaller and definitely easier on the eye.
Always remember that it is important to choose home security alarm suppliers that have that mark of quality that you can trust. Choosing between wired and wireless home alarm systems is a personal choice, relating to many different factors, but with the right advice and guidance you can make the correct choice for your specific circumstances.