Before delving deep into the pros and cons, let's get acquainted with the basics first.
The boiler cycles to on and off so as to maintain the boiler temperature between 170 to 180 degrees F.
The burning wood leads to coal bed. The hot coal is then dropped into the reaction chamber that acts like a blast furnace and causes gasification of wood that can be burned more.
The combustion air for burning the wood in the wood boiler is supplied by a fan equipped inside that pushes the air into the firebox by solenoid operated penetrations.
Usually, there are two types of penetrations which are approx. 2 inches in diameter that works independently on the basis of combustion air temperature provided to the heat exchanger in order to heat the water.
When the softwood is burned, these penetrations build a creosote and begin to plug. They will be needed to clean on a routine basis and the frequency will depend on the amount of softwood being burned.
Advantages
It is perfect if you live in an area where heating fuel is abundant and accessible.
There is no indoor mess involved.
There is no smoke. The furnace is so efficient in nature that you cannot tell if it is running until and unless you see the heat waves emitting from the stack.
Outdoor wood boilers come with an option that lets the remote monitoring capacity that also notifies you on your phone or email if there is any issue. This helps you in determining if you should add some more wood in it or not.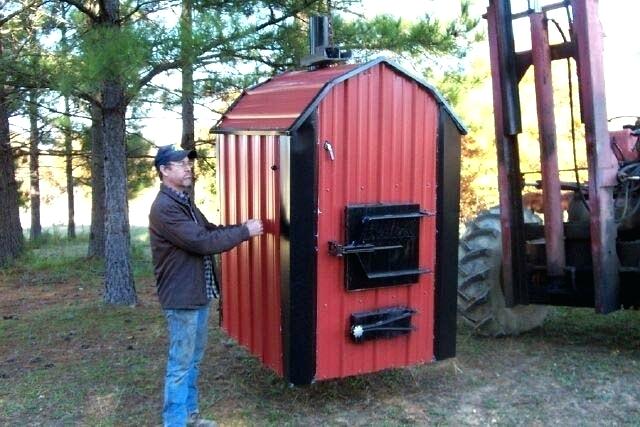 Boiler ash is also minimal in colder weathers.
In milder conditions, the boiler runs cooler and causes more ash.
If you like the aroma of burning wood, this is a perfect furnace for you.
Disadvantages
You may smell like smoke after loading the boiler.
Learning how to maintain boiler water chemistry is needed. It is essential to check the chemistry once in a year or after adding more water.
Any kind of wood can be burned in the outdoor furnace, but if the wood is soft, it may cause creosote accumulation in the air inlet penetrations.
Ensure that the wood is dry
The wood to be used will ascertain the boiler efficient and must always be dry. Always cover the top stack of wood with plastic to make it easy for you. The wood stack must also have good airflow around and 2 years for drying which will limit the amount of timely cleaning of the combustion air inlet nozzles.