Fire safety is never about one single process or application. A recent fire in Cornwall is evidence of how important it is to have an extensive and fully formed strategy for fire safety management in public and private buildings. The design, supply, and installation of fire doors is an important aspect of fire safety, but they do not offer any level of real safety from the outbreak of a fire if they are not closed properly, or if the people inhabiting a building do not understand specific roles, escape routes and the like in the event of a fire.
A Methodist Chapel Cornwall, is a success story in this regard after firefighters from St Austell warned about the importance of fire doors in saving the chapel from complete destruction after a recent fire. The building would have certainly burnt to the ground and been completely destroyed if a fire door had not been properly closed over. The fire took place on the morning of Sunday 26th May, with firefighters from the small Cornish town, as well as neighbouring Newquay were called to the scene where a fire destroyed one room of the chapel in Whitemoor, located near Nanpean.
St Austell Fire Station released a statement after the fire, which read:
 "Here's another example of the importance of closing internal doors… whether at home or any other building.
"This morning appliances from St Austell and Newquay Community Fire Stations were called to a chapel in Whitemoor. Upon our arrival, crews wearing breathing apparatus entered the building and discovered a room that had been 'well alight' and was destroyed by fire.
"If it wasn't for the doors to the compartment being closed, the fire would have spread and potentially destroyed the building"
It is vital that whenever a building is closed for the night, whether the inhabitants are going out completely or going to bed, that fire doors are properly shut to protect the building in the event of a fire.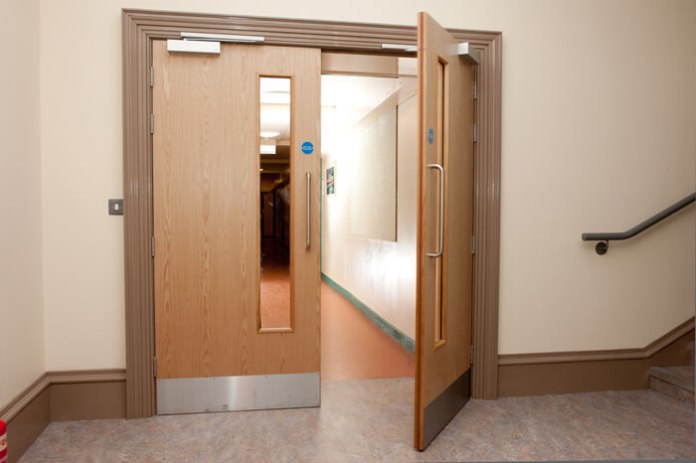 There are several things that you can do before going to bed at night that can increase your chances of surviving a fire. You are three times more likely to die in a night-time fire than one that starts in the day, so it is advice that it worth taking.
Always ensure that all inside doors (including any fire doors) are closed at night in order to stop a fire and smoke from spreading quickly from room to room. Turn off all electrical appliances aside from those like your refrigerator that is designed to stay on at all times. Always make sure that all exits and escape routes are left clear and that you know where to go in the event of a fire.
If you are considering installing fire doors at a property that you own choose a quality fire door supplier that understands how to protect your home in a way that adheres to strict fire and safety regulations. They will be able to advise on the correct fire doors to fit and how to help you put together a fire safety management plan that keeps everyone safe.